The voting has ended.

Welcome to the remote digital voting interface for Participatory Budgeting in the City of Vallejo.
The Cycle 3 PB Ballot is separated into 2 types of projects – PEOPLE or INFRASTRUCTURE, and you may cast up to the maximum allowable votes for each section. You may not use votes from one section in another.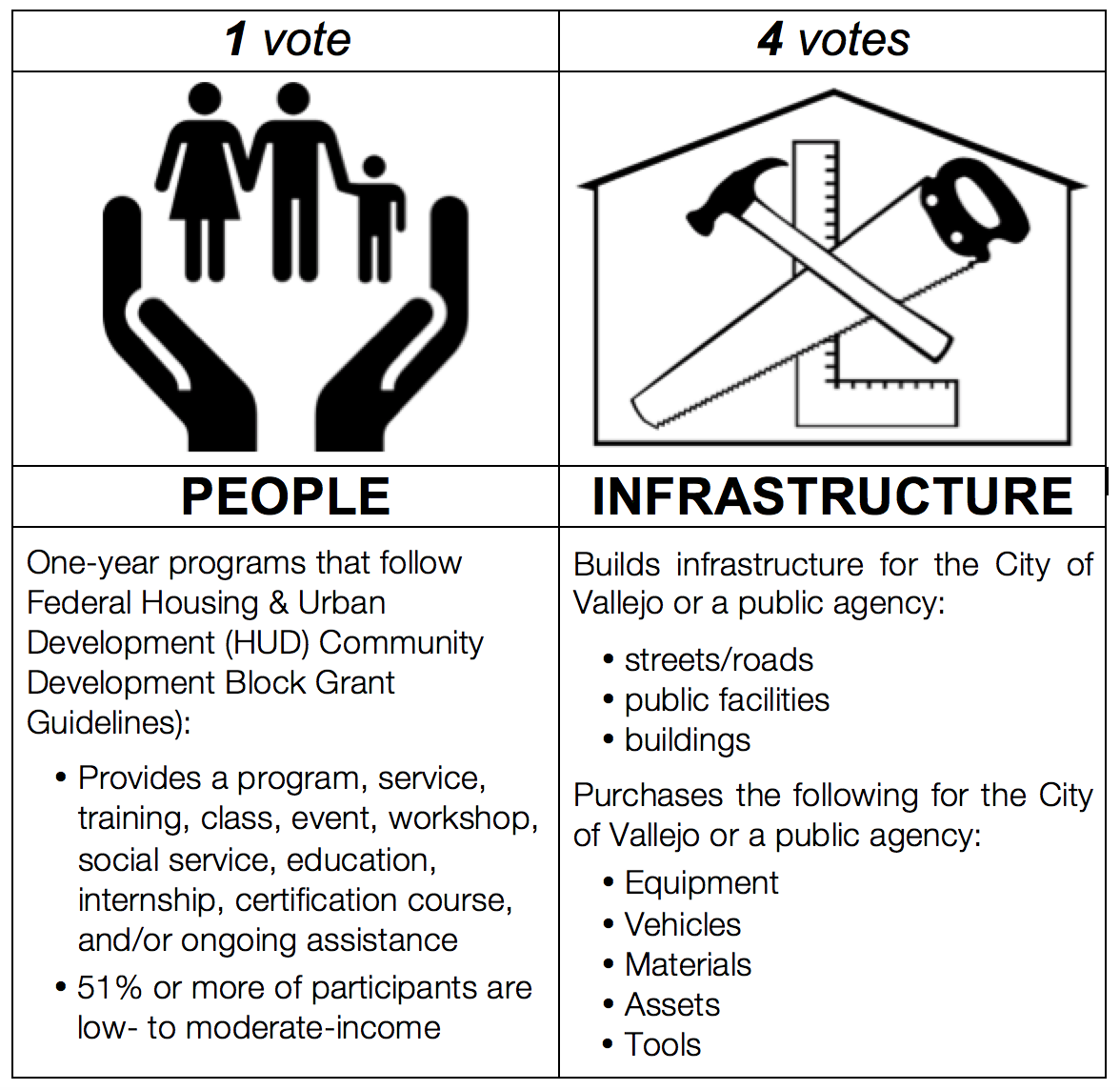 After selecting from the first section, you will be automatically directed to the next section. Only after you "SUBMIT" your ballot at the conclusion of the second section will your votes be cast.
To be eligible to vote, you must be:
A resident of Vallejo
16 years or older
Have a cell phone number (online voting only)
Voting Locations
If you wish to vote in person or using paper ballot, come to one of several voting locations:
Saturday, October 24th
(12:00 noon - 4:00 p.m.)
Waterfront under the tent north of the Ferry Terminal
Tuesday, October 27th
(6:00 p.m. - 9:00 p.m.)
Norman King Community Center - 545 Magazine Street
Thursday, October 29th
(6:00 p.m. - 9:00 p.m.)
Hogan Middle School Gym - 850 Rosewood Avenue
Every Weekday -- Monday, October 26th through Monday, November 2nd
(12:00 noon - 7:00 p.m.)
Vallejo City Hall - 555 Santa Clara Street
If you need technical assistance, please contact the Participatory Budgeting staff during regular office hours, Monday through Friday, 8:30 a.m. to 5:30 p.m. at 707-648-4577 or e-mail pbvallejo@cityofvallejo.net.
DISCLAIMER: In order to prevent fraud or abuse, voters' identifying information will remain private but will be connected to their ballot. However, City of Vallejo staff will not have access to this database. Names and other identifying information will be kept confidential by Stanford University's Crowdsourced Democracy Team. Ballots are not connected to survey information, and taking the survey is optional and anonymous.